Brown Hawk Restoration & Remodeling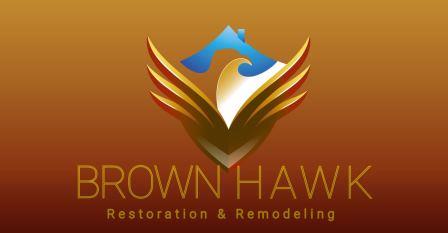 Booth: 1449
FEATHER YOUR NEST WITH THE BEST
Brown Hawk Restoration and Remodeling are experts in both insurance restorations, emergency mitigation, and remodeling.
Here are a few reasons we are the BEST at what we do:
• 30+ years of experience
• 5-Star review rating
• Free, comprehensive, & timely estimates
• No subcontractors
• Family-owned & operated
• Expert project planning and management
• All materials arrive immediately before the job
• Excellent communication
• Timely completion & clean worksites
Residential Remodeling
Considering a home makeover? Whether is a small project or your version of Extreme Makeover Home Edition, you'll be glad you trusted the Brown Hawk team to do it. A quality renovation by our team will increase the enjoyment and livability of your home and usually results in increased resale value. According to the NAR, 75% of homeowners have a greater desire to be in their home after remodeling. Kitchens, bathrooms, and wood floors are typically a solid investment. Not only do these renovations impress future buyers, but homeowners also report an overall improvement in livability with an average a "Joy" score of 9.7 according to the NAR.*
Insurance Restoration
Did a tree fall through your roof? Dinner suddenly go up in flames? Water pipes burst? No matter what happened, the Brown Hawk team can erase the damage, restoring it better than new with minimal downtime. If it's a covered repair, we'll work directly with your insurance company to ensure you get maximum value for their money.
Emergency Services
If you've experienced fire, water, or storm damage, our 24-hour emergency technicians will arrive quickly to mitigate the situation and take all necessary steps to prevent further damage.

CALL -TEXT - CLICK - MESSAGE
(678) 276-5266
Visit us on Facebook or Instagram @brownhawkrr to see our amazing transformations!
*National Association of REALTORS® , 2017 Remodeling Impact